'Active' community pantries at little library, mosque help feed Halifax and Dartmouth communities during pandemic | The Chronicle Herald
Three weeks ago, Jennifer and Scott DeCoste converted the community library they had set up in front of their Portland Street home in Dartmouth to a community pantry to address food insecurity in their region during the COVID-19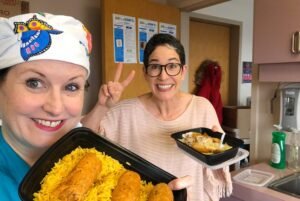 'They really need the support': Halifax mosque cooks up free meals for health-care workers | The Chronicle Herald
More than 350 hot meals. That's how many staff and volunteers from the Ummah Masjid and Community Centre have delivered to health-care workers in the Halifax Regional Municipality who are on the frontlines of the fight against COVID-19
Call to prayer 'brings comfort' to Muslim community during Ramadan | The Chronicle Herald
Through loudspeakers perched on roofs and windows, mosques in Halifax are now broadcasting the Islamic call to prayer, called adhan, at sunset during the month of Ramadan. Local mosques recently received the green light from the Halifax Regional
In wake of shootings, group updating its security guidelines for Canadian mosques | CBC News
The National Council of Canadian Muslims in Ottawa is updating its Muslim Community Safety Kit to include sections on lockdown drills, active shooter scenarios and bomb threats to be shared with mosques across the country.
Thousands of Saudi Arabian students have to leave Canada because their governments are fighting, so they're frantically selling their furniture and cars
The diplomatic feud between Canada and Saudi Arabia means that thousands of Saudi students studying in Canada have to leave the country by August 31 — leaving them scrambling to sell their belongings. At garage sales and online, they are selling everything from cars to strollers to televisions.